How Much Will My Wedding DJ Cost?
Wedding DJ Pricing Guide: Updated for 2020 / 2021
(Important Note: Many couples have moved their Wedding date to 2021 due to COVID-19 restrictions. Therefore, most Toronto Wedding Vendors have increased demand for 2021 dates. This may have some impact on Toronto Wedding DJ Cost / pricing)
It's an exiting time in your life. You just engaged and are now in your primary planning stage for your big day. Disc Jockey and Photo Booth rentals are the primary source of entertainment for Canadian weddings. 95% of couples getting married will select a DJ as their main entertainment. Approximately 30% couples will also add a photo booth to their internment plan for the event. One of the most common question that couples ask Kooltempo Toronto DJ services is: "How Much Will My Wedding DJ Cost??"
When it comes to Wedding DJ pricing, there is a very big price range starting from $350 to as much as $3,500++. In larger cities like Toronto, Mississauga, Montreal, Vancouver there are hundreds of DJ's offering Wedding services.
In order to determine your budget and plan your wedding entertainment, you need to consider the following questions.
Where should I start my Wedding DJ Search?
What am I comfortable in spending for my Wedding Entertainment?
Should I stick to basic music and lighting or should additional services such as Photo Booth, Dry Ice, Up-lighting be considered?
Does paying more for my DJ mean they be of better quality?
How do I compare pricing of DJ companies in my area?
Should I go with a large DJ company or should I stick to a small company or an owner operator DJ?
All these questions may sometimes be overwhelming to couples who have never hired a DJ before. Therefor, it is important to spend some time doing your own research in order to make sure you hire the right DJ company to ensure your wedding is fun and memorable. Kooltempo DJ Service had been working with thousands of couples since 2006 across southern Ontario and one thing we always advise our clients is to do their own research and select the DJ carefully as it is one of the most important choices that they would make when planning their Wedding.
Once you start doing your research on DJ pricing & cost, you will notice that there are broadly four types of DJ pricing / cost options to consider:
Beginner DJ's – $250 to $500
Owner Operator DJ's – $500 – $800
Professional DJ's – $700 – $1400
Overpriced / Expensive DJ Options – $1400 – $3500++
Beginner DJ's –
$250 to $500
As the title says, these will be an entry level DJ's who are trying to get some experience in the industry, hence have priced their DJ's services as a bargain to compensate for lack of experience and market reputation
How to identify beginner DJ's
Typically lists advertise their services on websites such as Kijiji and Craigs List and or on Facebook marketplace for free
May or may not have a website & will use free email service such as Gmail, Hotmail etc., for communication
Operates from their home or home office
Works as DJ's on weekend whilst doing a full-time or part time work during weekdays
Does not own most of the equipment and will rent equipment for events
Do not have a DJ License & not insured for liability
Will typically ask for cash payments and will not issue a receipt or have a contract
Most DJ's start here as beginner DJ's:
They are mostly hobbyists or doing the DJ business as a side business to make some extra cash. They may sometime be genuinely passionate about music but does not want to invest on a full time business unless until they make a name for their selves in the market.
Few important considerations if you are thing of hiring a beginner DJ is that; they will cost you less but you may need to compromise on quality. For example, they may be doing a full time "Day-Job" and may not be able to take you calls during weekdays and also may delay on responding to your emails. Further more, they will typically rent DJ equipment and may not carry back-up equipment. They may also not provide you additional services as Photo Booths.
Beginner DJ music collections may not be comprehensive as well as the quality of the songs may not be optimal as the downloads will not be from a DJ record pool but rather from Youtube or other dubious source. This would also mean that the songs the DJ plays may not be radio editions and contain some explicit lyrics.
Only a single person / DJ will turn up on the wedding day (if they do turn up!) and will do the equipment set-up and DJing just by him or her self.
Conclusion:
While there may be handful of genuine / good beginner DJ's; we do not recommend hiring a beginner DJ for the most important day of your life. You are already spending upwards of $30,000 for your wedding and opting for a budget DJ can potentially jeopardize your entire event. They typical analogy we use for beginner DJ's is that "do not get in to an aircraft with a beginner pilot. It may not take off or if it does, it will most likely end up crashing"
Owner Operator DJ's –
$500 – $800
Owner operator DJ's are typically a notch above the beginner DJ's. They may be more experienced and offer you better choice and value
Some highlights of owner / operator DJ's:
It's a "One Man Show!"
The DJ business may be their name "xyzDJ" or "DJxyz"
May have several years of experience and fair knowledge of DJing
Typically offering DJ services as a part time business
May have a basic website and decent reviews by clients
Might only specialize on some specific genres
Rents or own basic DJ equipment
Will encourage you to make payments in cash and consider waiving off the tax
Operates from their home office
May be licensed but not have 3rd party liability insurance
The Owner / Operator DJ's are typically considers as average Wedding DJ's and they tend to take hair business more seriously. If you are looking for a budget option, then considering an owner / operator DJ is far better than opting for a beginner DJ.
Often these DJ's will try to get most amount of events and focus mainly on quantity rather than quality. They will do weddings, private parties, bar's, school events, nightclubs, Karaoke events etc., etc., Their main objective may be to save cost and may not carry the best equipment and or music collection. These average DJ's typically not have any back-up plans in case of sickness or accidents. They may not be wedding specialist but will try to do any type of event that comes their way.
Since owner operator DJ's are one man shops. This means they will be handling customer inquiries, corresponding with lists, managing their advertising and websites, planning events and music, going for weddings and also be doing a part time job as they may not have sufficient revenue to sustain the business! As a result you may not get their full attention and timely responses. This could become frustrating especially during the days leading to the big day!
Conclusion:
Opting for an owner / operator Dj would be a far better option than going with a beginner DJ. However, you may find their response times, dedication and attention to details may be not up to your expectations.
While we know of many good owner / operator DJ's in the Toronto area, we would highly recommend the couples to do a lot of research about the short listed DJs. This could be looking at their past reviews, talking to reference, looking at their online videos and of course an in person interview using 'Top 10 Questions to ask before booking a DJ".
Professional DJ's –
$700 – $1400
Professional DJ's are small to mid sized Wedding DJ and event DJ companies in Toronto. These companies typically have approximately 3-8 Professional DJ's / MC's in their roster. These companies manage hundreds or event thousand of events such as weddings, school dances, corporate events, every year and are full time businesses.
Some highlights of Professional DJ's:
They are a full time business
Known for quality and service and have excellent client reviews
Usually provides best value for money and are somewhat flexible with prices
Has a large music data base with high quality 320k songs / tracks
Great relationships with other wedding professionals and venues
May have a small office or business location
Good online presence and excellent ratings on websites such as Weddingwire, Google, The Knot, Yelp etc.,
Thoroughly plan the music for your wedding, including a pre-event consultation before the wedding day
May provide multiple pricing package options and offer value added services such as uprights (price ranges from $20 – $50), Photo Booth Rentals (Prices Ranges from $500 – $1500), Dry Ice (Prices from $100- $300), Slide Shows, Projectors
Will recommend to have dance lighting and offer Intelligent Lighting as par of the pricing package or as an add-on (Price range from $300 – $800)
Excellent communication will clients and prompter's response
Own equipment (no rentals) with back-up for emergency situations
Professional / Wedding specialist DJ':
These type of DJs are experienced and knows what they are doing. They will meet multiples times with the couples with the aim of making your wedding day special and memorable. They will plan out your wedding timeline and prepare the music in advance, accept requests from guests on the day of the event. Professional  DJs have a vested interest in making each event they manage a success as it is critical for their future business and their overall reputation.
Conclusion:
Opting for a professional DJ for your special day will enable you to plan and have a stress free time leading up to the wedding day. The DJ will do most of the legwork and add value to your overall wedding experience. As you may realize this is the best type of DJ's for most events to ensure you wedding is a success. While you will be paying a slight premium than the other types of DJ's the professional DJ's are a much better choice for your Toronto Wedding
Overpriced / Expensive DJ Options –
$1400 – $3500++
Most couples misunderstand and think the higher price equals better quality and better service. However, this is not necessarily correct. You will come across many overpriced / Expensive DJ's when you are looking to select a Wedding DJ for your event. These companies will typically provide the same experience and services as a professional DJs but will charge a premium. Most of these over priced DJ's are larger companies who will take you business and sub contract to the professional DJ's and or owner operator DJ's hence the higher price as the mark up! We would recommend to avoid these companies as you will be paying a premium for there service and with no extra value.
Final comments:
Finding the right DJ for your special day can sometimes be a daunting task. We hope this article will provide some insight to the pricing and DJ options available in Toronto and southern Ontario.
Going with the cheapest option may be tempting but it can also lead to poor service and last minute headaches. Going for the most expensive DJ may be misunderstood by many as the best option for quality. However, this is rarely the case. Opting for a Owner operator or a Professional Wedding Experts will provide you better value and excellent service. The latter one in our opinion is a better choice!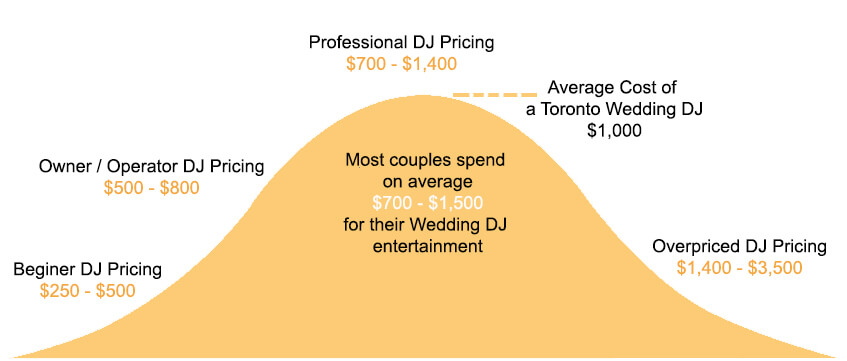 On average Toronto couples spend approximately $700 – $1,500 on their wedding Entertainment. Primarily for the Wedding DJ including dance floor lighting

How Much Will My Wedding DJ Cost? can be determined by advance planing and doing your own research. The key to getting right DJ and best value for money. Start by counting some local DJ's obtain their pricing and then create a small spreadsheet to compare each Dj. Shortlist a few companies that fits your budget and then have a face to face meeting and interview them. Go with the Toronto DJ company and DJ that you feels best aligns with your vision. Ensure that you are comfortable with the DJ personality.
Ultimately, your wedding's success is largely dependent on the entertainment and the right DJ will make the day fun and memorable for you as well as all your guests!
We hope we were able to provide some insights about "How Much Will My Wedding DJ Cost?" and questions related to selecting a wedding DJ.
If you are looking for the best Professional Toronto Wedding DJ service with excellent value and very competitive pricing. Contact Us today and we will be happy to discuss your wedding music requirements to ensure your special day is fund and super memorable!
Are you looking for a Toronto Photo Booth Rental for your event as well? Koolpicx Toronto Photo Booth Rentals provides the best in Pricing, Quality & Service. Check out our Koolpicx Toronto Photo Booth Rental Site for Pricing and more details!