Having your friends and family members physically present with you to celebrate your Toronto Wedding or Special occasion is one of the factors that will make your celebration special. While we like to have all our family members, friends & loved once physically present when we celebrate the special days in our lives, most often we find some close friends and family members may not be able to attend your Toronto Wedding, Anniversary or Milestone Birthday party.  These loved once can be in Toronto, within the Province, different City in Canada or in another part of the world. In the not so distant past the photos and videos of the Toronto Wedding or event was the only means of sharing your day with the people who couldn't make it for the event. However, due to advancement in today's technology the people who cannot be physically present for your event can now be virtually present.
There are many options to have your loved once joining your celebration virtually. It's important you select the best options based on your individual situation. This article by Kooltempo Toronto DJ Services provides some useful information to help you…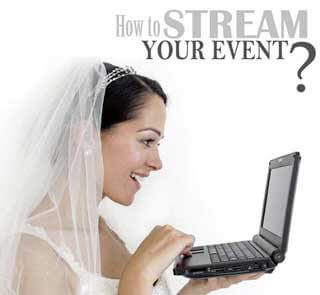 Step 1: Decide if you want to "Stream" or have a "Video call"  
Streaming your Wedding or Special Event
Steaming is making the video available online, live to an audience. This is most often a one way media where you broadcast the video / audio of your event to an audience who can watch it in real-time from any part of the world  
Video Calling
Video calling is very similar to streaming; however the communication is two way… you can communicate audio / video between the participants (both ways). Video Streaming was made popular by services such as Skype and is most often used by two parties (two-way), however the option to have multiple people on the same video call (multi-party video conferencing) is also available.  
So what's the best option for your event?
The decision to either stream or set up a video call of your Toronto Wedding, Birthday party, Anniversary or Toronto Event will be based on the number of people who would participate online for your event, where everyone is located, if you want any interactivity and what technology is available at the venue as well as the other end.
If you have many loved once located in different parts of the world or different cities who would like to virtually join your event then streaming may be the best option. However if you have an individual or a group of people who can gather in a single location then a Video Call may be the cheapest, easiest and the best option.  
Video Streaming Options
YouTube Streaming: Most of us are familiar with YouTube as a video sharing website. However, they also offer Video Streaming service as well. The Service is Free of charge and is fairly easy to set-up.
Checkout the YouTube site for detailed step-by step instructions to set-up the streaming service:
YourTube Streaming Step by Step Guide
**Please note YouTube Streaming service may not be available for all users!
I do Stream: This service mainly caters for Weddings. I do stream is a paid service and would cost you $199, if you have your won equipment. They also have an option to supply the equipment, however the cost of renting the equipment may be actually be more that the cost of purchasing them…
Here's the link to:  i-Do-Stream  
Video Conference Options
Google Hangout: Google Hangouts may be the easiest and cheapest ways to set-up a video conference for your Toronto Wedding or Toronto event with multiple people joining you virtually from different locations. The service is free of charge and is fairly easy to set-up. Once your join Google+ and add the people you want to share your event with, it's fairly straightforward and user-friendly. Google Hangout offers much more features than video streaming / conference such as interactive chat, screen sharing etc.,
Get Started with Google+: Click Here
Help with Google+: Click Here
(Don't forget to add us to your circles!)
Video Tutorial: Click Here
Video: Click Here
Skype for Group Conference: Most of us are very familiar with Skype chat and video calls as a FREE service. Skype also offers Group Video Calling service so that you can have multiple people on the same call. Please note that the Multiparty Video Conference feature on Skype is a premium service
Click here for more information about "Group Video Calling"
Skype for two way Video Calling: If you have few loved once joining you remotely and if you are able to organize everyone to be present is a single location then Skype if the most reliable and cheapest options to have them join you.  The service is 100% free and requires you to sign up and download their application. If you have a Facebook or Microsoft account then its much easier to sign up.. The people in the remote end also requires a Skype account and the app installation
More Information: Click Here
Face Time: If you are have an apple iPhone or iPad then Face time may be a great option. While you need Wifi connectivity to use this service.. its free of charge and not much different to that of making a phone call. This solution is ideal if you are having an individual person joining your event remotely.. also since you will be using a smart phone or a tablet there is greater flexibility for mobility  
Step 2: Who would be in charge?
If you are the host then you cannot be responsible for setting up and operating the video calling or live streaming. Therefore, it is important for you find some one reliable who is technically savvy to be responsible for equipment set-up and control.
Identify the person at least several weeks in advance of the event date. Make sure they are available and comfortable to handle the job. It might be a good idea to have a reliable friend to handle this rather than a family member since you would need your family members to be fully engaged in your event and not responsible for the video conferencing / streaming!
You also need to make sure that there is some one reliable and responsible for equipment set-up and control at the remote end as well. If there are many people joining from different locations then you should send them clear instructions about the set-up well in advance of the event date.
Tip: If you have some extra money in your budget then it might be a good idea to have a professional person responsible to manage the video streaming or calling service on your behalf.   
Step 3: What "Equipment" to Use?
You should make a list of equipment that you need [at your end as well as the remote end(s)].
Usually for setting up basic video calling / streaming you need (at both ends)
a. Computer (Ideally a Laptop Computer)
b. Video conference Software (eg:- Skype)
c. Video Camera (Most new Labtops have in built cameras)
d. Power / extension cords
e. Ethernet Cable (if you can get wired connectivity from the venue)
If you are using Face Time or Google Hangout then you only need a handheld device like an iPhone or a Tablet which has the Google App installed.
Tip: The computer(s) used for the streaming / video calling should only be used for that purpose during the event. Its not recommended to run multiple applications when the streaming or video calling is taking place   
Step 4: What about "Connectivity"?
There are three connectivity options you have to share your event via Video streaming or Video Chat  
1. Hardwired
It's always preferred that the people joining you from the remote end have wired internet connectivity. This is also the best option if you are using a laptop at your site (event location) as wired connectivity is the best option in terms of reliability.  However the drawback from wired connectivity is that your the flexibility in terms of mobility may be limited
Tip: You should check if this facility has hard wired internet connectivity service available at their banquet venue at the time of booking the venue   
2. Wi-Fi
Wi-Fi might me the most feasible option in Toronto locations! Most banquet venues in Toronto now have Wi-Fi connectivity and it's fairly easy to set-up as well. Wi-Fi connectivity in most times are very reliable (however it will depend on how many people are on the network with you)   
3. 4G
Cell phone data connection can also be a good option for video calling (eg:- Skype Video Chat) or for Google Handout. However iPhone / iPad Face time is not available via cellular data connections.  
Step 5: Make sure you do sufficient "Testing"
It's extremely important to test the connectivity (onsite) and with the participants about 2 to 3 days before the event date.  
Step 6: Having a "Back-up plan"
Having a back up plan is important. For example if your primary plan is to use Skype with a Lap Top connection then your back up plan should be a smart phone with Skype. Having a back-up plan will save you a lot of headache if equipment or connectivity fails…  
Subscribe to Kooltempo Blog to view more featured articles to make your Special Day Memorable!
Kooltempo provides Toronto Wedding DJ Services, Toronto Prom DJ Services, Toronto Party DJ Services and Toronto Corporate Event DJ Services. If you are planning for a special occasion the contact Toronto's Best DJ Service Today!
If you are looking for the best Professional Toronto Wedding DJ service with excellent value and very competitive pricing. Contact Us today and we will be happy to discuss your wedding music requirements to ensure your special day is fund and super memorable!